Towards a
Sustainable Future
Established in 2011, kay me is a direct-to-consumer (D2C) brand
committed to building a sustainable world for the future.

Since our inception, we have been setting our sights
on the next 10 to 20 years to drive positive change.
With a focus on supporting local manufacturing, we have been dedicated to pursuing
seven key initiatives that align with our vision of sustainability.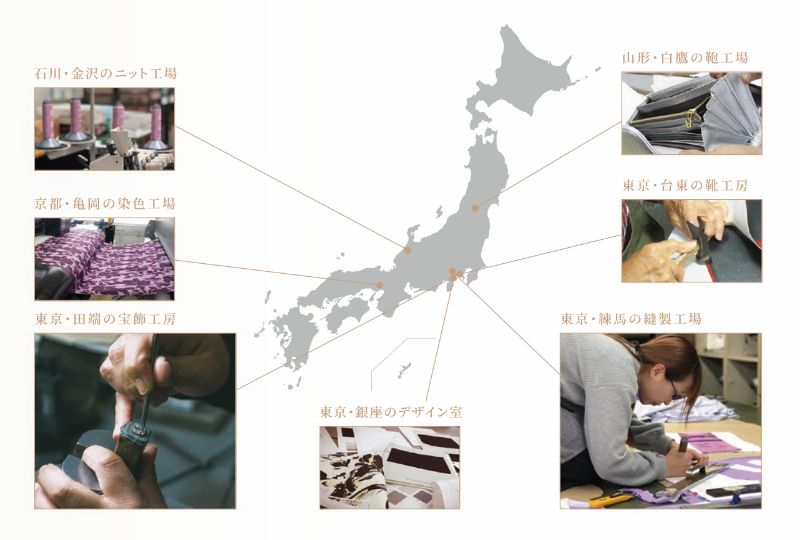 1
Preserving Japanese Craftsmanship
Once proudly displaying the "made in Japan" label on
50% of clothing in the early 1990s, its presence has diminished to a mere 1.5% today. With the domestic textile industry seeing a significant decline, three-fourths of its entirety has vanished as production sought lower costs elsewhere.


Yet, we remain unwavering in our commitment to revive the industry. Entrusting 100% of our production to skilled Japanese craftspeople, we honor their unrivaled expertise and dedication. Despite the challenges, we persist in preserving and promoting Japanese craftsmanship, ensuring that future generations can continue to embrace its quality and beauty.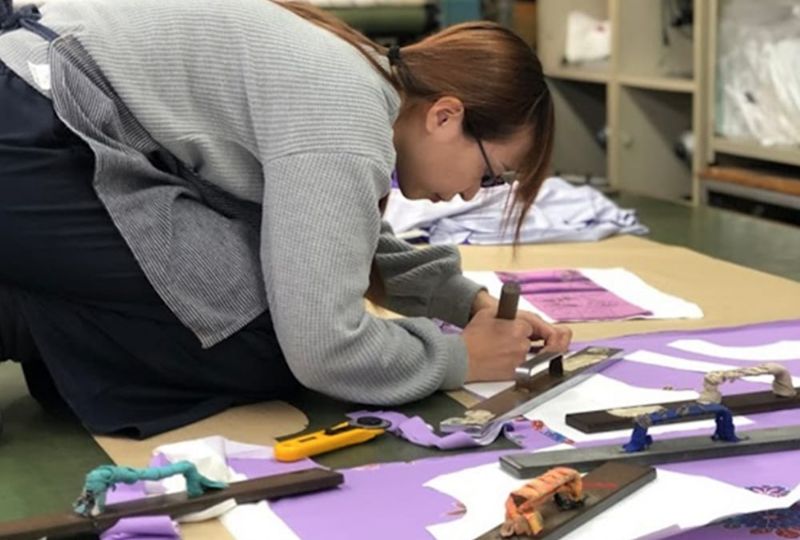 2
Fair pricing, No Sales
When brands prioritize profits over people,
it often leads to lower quality materials, flat designs, shorter garment lengths, and reduced labor costs. This relentless cycle of trends and overselling has put factories in a survival crisis.

But we made a different choice. At kay me, we have made a conscious decision to never hold a sale. Instead, we prioritize controlled production volume and uphold unwavering quality standards, believing in the value of our artisans' craftsmanship
and the importance of supporting their livelihoods, with prices that always reflect the true worth of their work.

Guided by this vision, we strive to create a trinity of enduring value, fostering a future where craftsmanship and conscientious consumption thrive.


3
Towards Zero Clothing Waste
At kay me, we go beyond fleeting trends. Our focus is on creating timeless designs that make our customers feel beautiful, with a commitment to quality craftsmanship that withstands the test of time.

In our mission to minimize clothing waste, we have implemented innovative practices. Through customer surveys and a pre-order system, we ensure that we produce only what is truly desired, avoiding excess inventory and unnecessary waste.

With these proactive measures, we aim to achieve our goal of
"Zero Clothing Waste" and contribute to a more sustainable fashion industry.


4
Animal Cruelty-free
We are deeply committed to protecting animals.
We refuse to create products that harm or exploit them, which is why we do not use animal fur or leather in our items. Instead, we have embraced the development of alternative vegan materials that offer both quality and sustainability.

We are proud to showcase the beauty and functionality of these advanced alternatives, such as faux fur and vegan stretch leather, which have significantly evolved over the years. Our product range includes belts, jackets, coats, shoes, and bags, all crafted with these ethical and high-quality materials.

By embracing animal-friendly alternatives, we aim to promote a compassionate and responsible approach to fashion and contribute to a more sustainable future that respects the lives of all beings.


5
Incorporating Recycled Materials
In our efforts to foster a recycling society,
we incorporate recycled materials into our material lineup, from materials crafted from discarded plastic bottles to repurposing scraps from sewing factories.

Moreover, we prioritize materials that are free from toxic substances and can be safely returned to the earth, promoting eco-friendliness throughout our production. We invite you to experience the luxurious quality of our line of eco-friendly line crafted from recycled materials.

6
Growth from Diversity
At kay me, diversity drives our growth.
With employees from various backgrounds, including apparel, IT, consulting, and entertainment industries, we believe in fostering an environment where diverse ideas and mutual respect thrive.

This cultural mix sparks innovative thinking, creating new value for kay me's success. We also value global perspectives and promote gender inclusivity. If you're passionate about our vision and ready for challenges, join us on our journey to make a difference in the world of fashion.

7
Empowering Women
with Comfort and Elegance
kay me was born out of founder Junko's personal quest for elegant yet comfortable clothing during her time as a consultant.
This pursuit has evolved into our mission to empower busy women and instill them with confidence through our high-quality products that perfectly balance comfort, elegance, and style.

Throughout the years, we have had the privilege of meeting and collaborating with incredible women from various fields, listening to their stories, and sharing their wisdom.
Discover more on our YouTube channel and explore our dedicated blogs available in both Japanese and English.

Confidence
Makes Beautiful
Designed for you in mind.
Whether it's for an important presentation,
a moment of pure happiness,
or any special occasion in your life,
kay me is always here to be by your side,
to empower you to radiate confidence and beauty from within,
enabling you to embrace every moment with all your heart.

Experience the Craftsmanship of kay me

Step into the world of kay me and discover our meticulously crafted products.
Each piece is created with the utmost care and attention to detail,
ensuring exceptional quality and timeless elegance.

We are committed to providing valuable products that our customers adore.
From the finest materials to thoughtful designs, our creations are tailored
to meet your needs while leaving a positive impact on the environment.

Come and experience the beauty and craftsmanship of kay me for yourself.
Find your perfect piece that combines style, comfort, and sustainability.